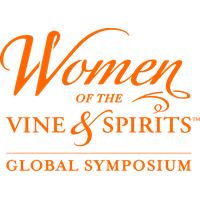 Women of the Vine & Spirits Global Symposium Sold Out
Fifth anniversary conference brings together largest gathering of women in alcohol beverage, worldwide
January 23, 2019 (New York, NY) – Women of the Vine & Spirits, the world's leading organization dedicated to empowering and advancing women in the alcohol beverage industry, opened and closed general registration yesterday, selling out its Women of the Vine & Spirits Global Symposium for the fifth straight year. Between general registrations and Corporate Member registrations, the event met its max capacity of 750 attendees. The Global Symposium takes place March 11-13, during Women's History Month, at the Meritage Resort & Spa in Napa, California.
Due to demand and outgrowing the capacity of its current space, expansion planning for 2020 is already under- way to allow more members, and opportunities for non-members, to join in on the Global Symposium offerings and become part of the growing Women of the Vine & Spirits community.
Now celebrating its fifth anniversary, the Global Symposium promises to feature an incredible lineup of notable speakers and panelists. The event also offers attendees multiple networking opportunities with the industry's top professionals and influencers, including executive management, human resource professionals, directors of sales and marketing, on- and off-premise buyers, distributors, educators, winemakers, distillers, sommeliers, mixologists, importers/exporters, owners, public relations, media, viticulturists, hospitality, operations, and more.
"It is incredible to see the overwhelming demand and need from women in the industry for this type of forum and we are proud to offer our members an opportunity to learn from leaders in the industry, network with influential professionals, and be empowered alongside a community of like-minded women and men each year in Napa," said Women of the Vine & Spirits Founder & CEO, Deborah Brenner.
Headlining the Global Symposium is Danica Patrick, one of the most recognizable professional athletes in the world. Patrick joined the mainstream ranks by going against the current, immersing herself and succeeding in the male-dominated world of professional motorsports. Additional Keynote Speakers include Jennifer Brown, Founder, President & CEO, Jennifer Brown Consulting; Ana Ines Mendy, Partner, McKinsey & Company, Inc; and Mary Kelly, Ph.D., CSP, CDR, US Navy (ret), Leadership Speaker/Author.
Other confirmed speakers include industry leaders such as: Greg Akins, President & COO, Wine Warehouse; Karen Betts, Chief Executive, Scotch Whisky Association; Amy Bourne, Senior Manager of Sustainability & Supplier Diversity, Marriott International; Danny Brager, SVP, Beverage Alcohol Practice, Nielsen; Nova Cadamatre, MW, Senior Director of Winemaking, Constellation Brands; Kathleen DiBenedetto, Sr. Director, Luxury and On- Premise, Beam Suntory & Kentucky Bourbon Hall of Fame Member; Joe Essa, President & CEO, Wolfgang Puck Worldwide & 2018 Vice Chair of National Restaurant Association; Stephanie Gallo, Chief Marketing Officer, E.& J. Gallo Winery; Kelly Hendriksen, Senior Manager of Brand Development, Ruth's Chris Steak House; Jan Jones Blackhurst, EVP, Public Policy & Corporate Responsibility, Caesars Entertainment; Rhonda Kallman, Founder & CEO, Boston Harbor Distillery, LLC; Robin McBride, Co-Owner, McBride Sisters Wine; Susan Kostrzewa, Executive Editor, Wine Enthusiast Media; Steve Sprinkle, Vice President, U.S. Sales, E. & J. Gallo Winery; Adam Strum, Chairman, Wine Enthusiast Companies & Editor and Publisher, Wine Enthusiast Magazine; and Barkley Stuart, Executive Vice President, Director, Government Affairs, Southern Glazer's Wine & Spirits and Chairman of the Board, WSWA; among others.
For a full list of speakers, visit womenofthevine.com/globalsymposium

The Global Symposium is open only to Individual and Corporate Members of Women of the Vine & Spirits. To become a member of Women of the Vine & Spirits, please visit womenofthevine.com. For those interested in Corporate Membership opportunities, please email info@womenofthevine.com or call 888.750.1863.
Women of the Vine & Spirits Corporate Members include Founding Member, Southern Glazer's Wine & Spirits. Diamond Members: Bronco Wine Company; Brown-Forman; E. & J. Gallo Winery; Moët Hennessy USA; and Ste. Michelle Wine Estates. Platinum Members: Caesars Entertainment; J. Lohr Vineyards & Wines; Pernod Ricard; Shaw Ross; and William Grant & Sons. For a full list of Corporate Members including those at the Gold, Silver, Bronze and Associate level, visit the Corporate Members tab at womenofthevine.com.
About Women of the Vine & Spirits
Women of the Vine & Spirits is the world's leading organization dedicated to empowering and advancing women in the alcohol beverage industry. Women of the Vine & Spirits is an organization for members to connect through our global and diverse network and collaborate across all industry sectors. Providing members with resources and opportunities to thrive is the cornerstone of our organization and success. We offer steadfast support for women at every position in the field with membership benefits that include: education, training, mentorship, entrepreneurship and networking as well as tools, services and resources for personal and business development. Together, we are a committed community taking action and making a positive impact on the alcohol beverage industry, worldwide. For more information, please visit womenofthevine.com.
CONTACT:
Kyndal Korsgaden
Kyndal@womenofthevine.com
805-779-0301
---