CONNECT | COLLABORATE | COMMIT
Women of the Vine & Spirits is dedicated to empowering
and advancing women in the alcohol beverage industry, worldwide.

Connect through our global network to build your business and your career.

"This is a wonderful organization that connects intelligent, accomplished
and interesting women who all share the goal of advancing
the position of women working in wine and spirits." 
Marilisa Allegrini, Chief Executive Officer, Allegrini Estates

Collaborate across all industry sectors to accelerate your business and
professional development.

"Until now, there has never been a forum for women to strengthen ties
through opportunities such as regional networking events, discussion boards,
educational resources and the Annual Women of the Vine & Spirits Global Symposium.
Women of the Vine & Spirits is the only organization to advance and
support the careers of women in the alcohol beverage industry."
Beatrice Cointreau, Owner & CEO, Champagne Tresor de France

Commit to take action and make a positive impact for yourself and your business. 

"I'm so proud that Wine Warehouse is a member of Women of the Vine & Spirits.
You've created an incredible community that can and will change the status quo
of women in the beverage alcohol space and, by extension, help advance opportunities,
equality and safe work environments for women in general. It's a movement and
you're an important influencer. Congratulations and thank you!!"
Linda Myerson Dean, Senior Vice President & Co-Owner, Wine Warehouse

Women of the Vine & Spirits Corporate Members

Founder of Women of the Vine & Spirits, Deborah Brenner, Named "Social Visionary of the Year"
"Deborah Brenner is our recipient of the Social Visionary of the Year Award because she is a change-agent, tirelessly advocating for a more progressive and inclusive environment for consumers and professionals at all levels of the alcohol beverage business. Through her work with Women of the Vine & Spirits and related projects she has modernized the conversation of gender in the alcohol beverage industry, across the globe."
Susan Kostrzewa, Executive Editor of Wine Enthusiast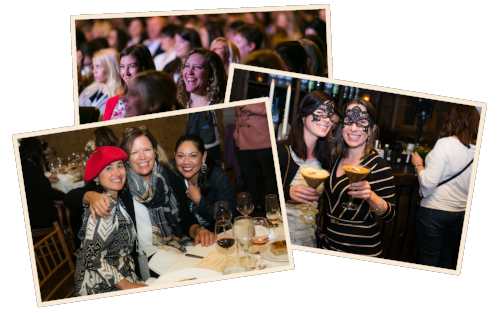 "At Southern Glazer's Wine & Spirits, we're honored to take the lead in supporting
this groundbreaking organization in the wine world. As leaders in the
wine and spirits industry, we are committed to growing diverse
leadership teams and investing in talent development throughout the company.
As Founding Members, we'll continue to provide our ongoing support
to Women of the Vine & Spirits and its overall mission in perpetuity."
Mel Dick, President of the Wine Division and Senior Vice President,
Southern Wine & Spirits of America, Inc.

Save the Date
March 9-11, 2020
Experience the most enthusiastically sought-after, first-class symposium in the industry. Because of its powerful and insightful content, lineup of industry notables, advantageous content, abundance of take home value and high quality networking opportunities tickets are highly coveted and sell out fast.
.


"Happy to participate in this amazing Symposium, rich in audience, speakers, subjects
and especially objectives. Women of the Vine & Spirits is a brilliant initiative, bravo!"
Maggie Henriquez, President & CEO, KRUG Champagne 

"Women of the Vine & Spirits is truly making a great contribution to our industry!
It's incredible in a few short years to have made such an impact and created an event that is in
such high demand! The voices of the talented women of our industry are so
important to hear, and you are truly setting a wonderful stage towards making sure
their contributions are visible and at the forefront of minds!"
Marc D. Taub, President & CEO, Palm Bay International

Women of the Vine & Spirits Foundation, Ltd. provides scholarships and awards for the purpose ofhelping women advance in their careers in the food, wine, spirits, hospitality, or viticulture industries through education, leadership, and professional development.
Providing women with education, resources and opportunities to thrive is the cornerstone of our organization and success.