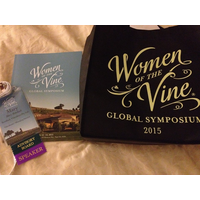 Inaugural Women of the Vine Global Symposium
The Meritage Resort and Spa, Napa, CA
March 12 - 14, 2015
"At Southern Wine & Spirits, we're honored to take the lead in sponsoring this groundbreaking organization and event in the wine world. As leaders in the wine and spirits industry, we are committed to growing perse leadership teams and investing in talent development throughout the company. As Founding Sponsors, we'll continue to provide our ongoing support to the Women of the Vine organization, symposium and its overall mission in perpetuity."
- Mel Dick, President of the Wine pision and Senior Vice President, Southern Wine & Spirits of America, Inc.
---
"Southern Wine & Spirits is dedicated to advancing women in the wine industry and I'm honored to take part in this one-of-a-kind organization and inaugural symposium. As the nation's leading wine and spirits distributor, we know the importance of supporting the continued development of the many very talented women in the wine business. We're committed to the continued involvement with the organization for many years to come."
- Steve Slater, Executive Vice President, General Manager, Wine pision, Southern Wine & Spirits of America, Inc.
---
"We are pleased to be a part of this initiative. We probably have more women managers per capita than any company in the industry and they are some of our most valued colleagues."
- Bill Terlato, Chief Executive Officer, Terlato Wines
---
"The Women of the Vine Global Symposium, like a fine wine, will serve as a catalyst for conversation among like-minded women. The connections and collaborations sparked at this event will inevitably lead to stronger women leaders in the industry."
- Clarice Turner, Senior Vice President, U.S. Retail, Starbucks
---
"As the proprietor of a brand rooted in the spirit of women, I am honored to join forces with such a distinguished roster of inspiring women in the industry. With women accounting for more than half of the wine consuming population, it stands to reason that women play an active leadership role in the business of wine, whether it's in the cellar, out in the field or in the boardroom. The 'Women of the Vine' Global Symposium is a great opportunity to share, learn and empower one another to take our industry presence to the next level."
- Cheryl Indelicato, Proprietor of HandCraft Artisan Collection
---
"As new women owners and executives lead their wineries into the future, there has never been a better time for the 'Women of the Vine' Global Symposium," said Cynthia Lohr, second generation owner and VP marketing for J. Lohr Vineyards & Wines. "Events that bring women in the wine industry together to share best ideas and practices are critical if we want to create opportunities, foster talent and mentor the women leaders of tomorrow. Deborah's ability to ignite powerful connections to benefit so many women in our industry will be in full force at the Symposium, and marks her passionate mission since launching her flagship book, Women of the Vine, in 2006."
"Women play a key part in the wine industry, and we're proud to support our female leadership. Farm Credit supports all kinds of agriculture, and we celebrate all extraordinary women winemakers out there. "
-Terry Lindley, Chief Marketing Officer, American AgCredit
---
"As the second generation President of my family's winery, it is an honor to be a part of such an incredible group of women representing the wine industry. This symposium is a long time coming. Women play a vital role in shaping the global wine industry. Having a forum where we can share ideas and best practices is something I believe has been a missing component for women leaders in our industry. Thank you to Deborah and her entire team for spearheading this conference!"
- Kim Stare Wallace, President, Dry Creek Vineyard
---
"In Australia female winemakers and viticulturists make up less than 10% if the team. The Women of the Vine Global Symposium provides a fantastic opportunity encourage women to put their hands up for opportunities, be present at the decision making table and ensure they are well supported, so we don't lose women who are at the top of their game. Initiatives like this mean women have ready access to mentors, can connect with peers more effectively, contribute sooner and more effectively."
- Mary Retallack, Viticulturist / Managing Director, Retallack Viticulture
---
"Today, women are increasingly visible as leaders in every aspect of our industry," said Jan Barnes, VP Brand Director for Chateau Ste. Michelle Winery and member of the Symposium's advisory board. "In our own experience, the challenge is not only to retain the women we have working for our own company but also to ensure that they thrive while concurrently fostering the next generation of talent. The 'Women of the Vine' Global Symposium will be an outstanding opportunity to discuss these challenges and companion opportunities with our peers throughout the industry,"
---
"It is a huge honor to be a part of the Women of the Vine Global Symposium, representing Southern Wine and Spirits. Southern and the industry overall have provided more professional and personal developmental opportunities than I could have ever imagined and I know that this is just the beginning. Opportunities such as this event allow women to be surrounded with likeminded peers that share a true passion for the industry and a desire to evolve, lead change and succeed together. I know that the Women of the Vine Global Symposium is only the beginning of a monumental progression in the industry—and I am incredibly fortunate to work for a company that supports, encourages and embraces change and new opportunity."
- Nicole Bazzo, Portfolio Manager, Southern Wine & Spirits of California
---
"We are so very excited to be involved in such a unique and special event. I think this will be the start of a really great tradition for the wine industry,"
- Emilie Eliason, Marketing Manager, J Vineyards & Winery
---
"This event couldn't have happened 20 years ago. We've come a long way. It's time to celebrate the past and look to the future at the Women of the Vine Global Symposium. I can't wait."
- Susan Sokol Blosser, Founder, Author, Sokol Blosser Winery, Dundee, OR
---
"This event is an excellent opportunity for women in the wine industry to demonstrate leadership, think creatively and act collaboratively. "We are excited and proud to PARTICIPATE in this groundbreaking event".
- Caitriona Anderson, SVP Sales & Marketing for Monvera Glass Décor in Richmond, CA
---
"Congratulations on putting together an impressive network for those who are involved in the winemaking community. Sharing perspectives and knowledge is important for the ongoing advancement of women and for the development of the entire wine industry."
- Kathleen Heitz Myers, President & CEO of Heitz Wine Cellars
---
"I am thrilled to be a part of the "Women of the Vine" Global Symposium! Although there are more women in the industry all the time, we are still only beginning to take advantage of networking and growth opportunities. This is going to be a wonderful forum and I believe it will pave the way for more talented women to join us in this exciting and challenging field!"
- Jennifer Hein, Director of Supplier Relations, Southern Wine & Spirits of MD and DC
---
"Frankly a Symposium like this is long overdue."
- Alder Yarrow, Founder and Editor, Vinography and Author of The Essence of Wine
---
"Every industry has their connections. Ours is a passion for the luxuries of wine and food. But with the Women of the Vine Symposium, those of us who can strengthen these connections with the women in our industry will have the opportunity to do so at this important and relevant event."
- Meridith May, Publisher/Editorial Director, THE TASTING PANEL & The SOMM Journal
---
"We very much look forward to working with you and your organization as we are very lucky to have a roster of strong female leaders within our company that are all making a contribution to the wine industry."
- Dave Lane, Chief Operating Officer, Terlato Wines
---
"Women of the Vine Global Symposium is an important venue not only for current female wine professionals, but is an inspiration for all young women who wish to enter the exciting world of wine careers."
- Dr. Liz Thach, MW, Professor of Wine Business & Management, Sonoma State University
---
"Getting involved with the Symposium is a win-win. It gives those of us in leadership positions a chance to give back to women starting their careers in wine and it also provides a networking forum for all women in the industry. What a great opportunity for women from every aspect of the business to strengthen their knowledge base."
- Michelle Pae, Vice President, National Accounts, Terlato Wines
---
"It's a great honor and thrill for me to be one the speakers at the Women of the Vine Global Symposium. I think this is a wonderful way for women to connect and collaborate. I'm looking forward to an educational and meaningful weekend with women from all walks of the wine world."
Monique Soltani Wine Oh TV Founder and Host
---
"Both the celebration and recognition of women in the wine industry is long in coming. Representing over 3,000 women in the world of wine, I am so proud to be a part of the Women of the Vine Global Symposium. Our Company and our independent Wine Consultants view this event as both inspirational and aspirational. Inspiring all of us to learn from one another as we aspire to reach new heights and levels of excellence. The Women of the Vine Global Symposium is a landmark event for both the wine industry itself and for the women who are making history in the wine world."
- Jane Creed, President and CEO, WineShop At Home
---
"As a co-founder of Women for WineSense, I have long supported the valuable contributions women make to the wine and related businesses. While we've achieved a measure of success, there is remains a shortage of women in leadership rôles. Conferences like this one are an opportunity for women to meet, share ideas, learn, and encourage one another to pursue their dreams."
- Michaela K. Rodeno, Owner, Villa Ragazzi Winery
---
"There is a strong need for such a forum as there is a shortage on mentor/networking opportunities for women despite the large numbers that hold top spots across the industry. I am anxious to be a part of this group and look forward to making the inaugural event a huge success."
- Jayne Portnoy, Vice President of Marketing & Brand Strategy at Napa Technology
---
"I am SO excited about this event. I cannot believe how under represented women are at wine industry events here in Northern California. It boggles my mind and I scratch my head every time I attend an event and think, "what is the deal here? Are all the women just staying back in the cellar and the vineyard keeping it all together? Thank you for putting together such an incredible (and necessary) event! I am telling all my women friends who work in the wine industry about it."
- Samantha Foster, VP - Food & Agribusiness Sr. Relationship Manager, Rabobank, N.A
---
"The Women of the Vine Global Wine Symposium will bring women together to discuss, collaborate, and determine new paths for our work in this thriving wine industry. Coming together will begin the process of determining new policies that are not restrictive to women in our business. It is important for us to disrupt the old policies. We must work together to provide a new understanding in order for women to garner the support to reach the highest levels possible and become leaders of the global wine industry."
- Jean Arnold Sessions, Founder, Jean Arnold Group, JAG Foundation and Jean Arnold Collective
---
"During the course of my work I meet thousands of industry folk each year the majority of whom are men. Women of the Vine represents a fast track to meeting many of the woman who are so instrumental in our industry. It's not uncommon to hear men call female-focused events "reverse sexism" which misses the point entirely. The sympatico we share benefits everyone we do business with."
- Deborah Parker Wong, AIWS,No CA Editor/Senior Industry Editor, The Tasting Panel & The Somm Journal
---