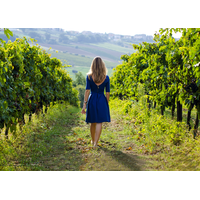 THE BUZZ 2017
What people are saying about Women of the Vine & Spirits & the Global Symposium
"Women of the Vine & Spirits fills a gap I wish existed when I started working in this industry, 30 years ago. Until now, there has never been a forum for women to strengthen ties through opportunities such as regional networking events, discussion boards, educational resources and the Annual Women of the Vine & Spirits Global Symposium. See the success, the happiness of every one of us participating, the so many projects built already, and the so many friendships started from there. Women of the Vine & Spirits is the only trade organization to advance and support the careers of women in the alcohol beverage industry. I wish to support and advocate Women of the Vine & Spirits as an example in Europe with Deborah's leading example."
Beatrice Cointreau, Owner & Chief Executive Officer, ADMIRABLE Family Vineyards, Malibu
---
"The women of the Vine is truly making a great contribution to our industry! It's incredible in a few short years to have made such an impact and created an event that is in such high demand! The voices of the talented women of our industry are so important to hear, and you are truly setting a wonderful stage towards making sure there contributions are visible and at the forefront of minds!"
Marc D. Taub, President & CEO, Palm Bay International
---
"I am honored to be joining the European Advisory Board of Women of the Vine & Spirits. This is a wonderful organization that connects intelligent, accomplished and interesting women who all share the goal of advancing the position of women working in wine and spirits."
Marilisa Allegrini, Chief Executive Officer, Allegrini Estates
---
"I can't get over the energy felt when sitting in a room with more than 500 other wine professionals being inspired by personal stories and talking about hard issues women face in this industry. Our strength and our numbers continue to grow."
Lisa Mattson, Director of Marketing & Communications, Jordan Vineyard & Winery
---
"Frederick Wildman and Sons, Ltd., is honored to be part of this ground-breaking organization that supports and empowers women in the wine workplace. As a Platinum sponsor, we will continue to do our part in this incredible event, one that sold out in less than 24 hours, and one that is attended by such an influential group of women in wine. Women account for over 50% of Wildman hires and the company actively supports the advancement of women in the workplace. Our commitment to Women of the Vine & Spirits is set for years to come."
Odila Galer-Noel, AVP/Director of Public Relations, Frederick Wildman and Sons, Ltd.
---
"Italy represents the old world of wine making and yet we are losing ground in trying to engage the younger generation to be more interested in wine. I look forward to working with Deborah Brenner and her organization to leverage their expertise to enhance our dialog, research and mentoring of the female wine community, keeping in mind the younger generation, but also with support from the male contingency."
Stevie Kim, Managing Director, Vinitaly International
---
"Allied Beverage Group is proud to support Women of the Vine & Spirits and their commitment to empowering women in the Beverage Alcohol Industry. We believe the accessibility of this organization's services to all levels of managers along with their commitment to making lasting change is fundamental to the ongoing success of Women of the Vine & Spirits. The greatest leadership teams represent diverse talents, perspectives, and skill sets with a keen understanding of the value of soft skills. We are thrilled to be part of an organization that recognizes this and provides the support and guidance needed for women to confidently aspire to ascend ladder in this terrific industry."
Donna Buoscio, Director Commercial Finance, Allied Beverage Group
---
"More and more Australian women each day take on the challenge of either furthering their education in this field or jumping straight in. Exciting times ahead. Approximately 10% of women work in the vine so there is enormous scope for women to enter and exceed their own expectations in this field. Wonderful women like Deborah with her "Women of the Vine & Spirits" and our Australian Jane Thomson's "Fabulous Ladies Wine Society" are the guns and pioneers to further the advancement of women who now can say, "I only drink wine I am part of wine."
Dianne Laurance, Founder, Laurance Wines, Margaret River, Australia
---
"As the first female enologist of Argentina and with a career in the wine industry of over 30 years, I am delighted to participate in the 2017 Symposium. For all of the women that are involved in the wine industry, especially in Argentina, where they are having an increasingly important presence, to be part of this Symposium has special meaning in my life. I am committed to keep cooperating and promoting activities like this one, for the value they give to women's critical and growing presence in the global wine world."
Susana Balbo, Winemaker and Owner, Susana Balbo Wines
---
"Happy to participate in this amazing Symposium, rich in audience, speakers, subjects and especially objectives. Women of the Vine & Spirits is a brilliant initiative, bravo!"
Maggie Henriquez, President & CEO, KRUG Champagne
---
"As the world's third-largest premium spirits company, Beam Suntory is dedicated to growing and developing our talent around the globe. We believe that what makes our leaders, teams, company and industry stronger is our ability to humbly embrace change. As women in a traditionally male-dominated industry, we are "change" – we are trailblazers – and we are part of what will make this industry and our companies stronger. This Symposium provides us with a platform to build our network and our bond of being more than women, but rather, leaders who are enabling the future foundation of growth."
Rebecca Messina, Chief Marketing Officer, Beam Suntory
---
"I've had the privilege of collaborating with some of the smartest marketers in wine and spirits, many of whom are women. I am delighted we now have a professional organization that supports us, and it's an honor to sponsor the Women of the Vine & Spirits Symposium."
Cynthia Sterling, President & Creative Director, Sterling Creativeworks
---
"As a woman who joined the family business more than 30 years ago, I'm proud to support Women of the Vine & Spirits and its mission to empower women. It is important to acknowledge women's achievements from previous generations and create opportunities for future generations to come."
Carolyn Wente, Fourth Generation Winegrower & CEO, Wente Vineyards
---
"Ste. Michelle Wine Estates and Women of the Vine & Spirits share a parallel vision of developing more women in leadership roles across our entire industry. Having partnered with Deborah on the Symposium since its inception two years ago, we're thrilled at the groundswell of interest and activity. We still have a long way to go, but it starts with a clear vision. And we salute all of our industry partners for their efforts. Together, we will make that vision a reality."
Jan Barnes, VP Group Brand Director, Ste. Michelle Wine Estates
---
"In the U.S. wine market today, not only is 57% of wine consumed by women, but there are far more women working in the industry than ever before. In the past decade, I've seen attendance of women at Wine Enthusiast's iconic annual industry event the Wine Star Awards grow from a mere 10% to an incredible 40% today. I sincerely applaud Women of the Vine & Spirits' efforts to help continue to connect and inspire women to pursue careers in the wine and spirits world by fostering networks and further advocating for women in leadership roles."
Adam Strum, Editor in Chief & Publisher, Wine Enthusiast Magazine
---
"Delicato Family Vineyards is pleased to continue our participation in the Women of the Vine & Spirits Global Symposium this year. Our ongoing involvement with the organization and the event supports the goals of the Delicato Women's Leadership Initiative, to foster an environment that promotes the visibility of women leaders and supports the advancement of women. Women of the Vine & Spirits is helping to provide our entire industry with the information and inspiration to not only employ women but to empower, respect, and promote them."
Chris Indelicato, President & CEO, Delicato Family Vineyards
---
"Having attended the first two Women of the Vine & Spirits Symposiums, I was inspired with the mission of Women of the Vine & Spirits both personally and professionally for the Wine & Spirits industry. This year, VINTUS became a Gold Sponsor to help spread the news of what Deborah Brenner, as President and Founder, is doing to support the advancement for women in our industry. We, at VINTUS, have been promoting strong brands and strong women since 2004."
Christina Miller, Vice President, Director of National Accounts, Cruise Lines and Airlines, VINTUS
---
"Women of the Vine & Spirits is a groundbreaking organization that has cast a positive light on the development and ascension of women into critical leadership positions within our industry. We celebrate the achievements of the alliance and are truly proud to be part of its ongoing work as it very closely mirrors our founding principles at Precept Wine where we have long-championed the inclusion of all types of diversity among our leadership."
Alex Evans, Chief Sales & Marketing Officer, Precept Wine
---
"At Constellation Brands, we are committed to providing rewarding leadership and growth opportunities for women within our organization. We have an internal Women's Leadership Network connecting women to senior leaders and other successful women from across the company to gain leadership development. We are also proud to be a Diamond sponsor of the Women of the Vine & Spirits annual symposium. This partnership, which is a wonderful complement to our Network, fosters connection with other like-minded women in the alcohol beverage industry. Ultimately, this relationship speaks to our commitment to building awareness of the benefits associated with gender diverse leadership."
Melina Param, SVP, Human Resources, Wine & Spirits, Constellation Brands
---
"It is essential that we develop more career paths for women in our industry, especially at a time when half of enology graduates are women. As a Platinum sponsor, Fetzer Vineyards backs everything the Alliance stands for: stronger connections among women, transforming their career landscape, and raising the bar for mentorship of the next generation."
Cindy DeVries, Chief Operating Officer, Fetzer Vineyards
---
"Young's Market Company is committed to develop and advance women leaders. It is a privilege to join forces with the Women of the Vine & Spirits Global Symposium because we believe in the valuable opportunities it creates for our industry's women leaders to make strong connections and advance their careers. Thanks to Deborah Brenner's leadership, Women of the Vine & Spirits is also an incredible inspiration to women who are just beginning their careers in the wine and spirits industry."
Rick Gillis, President, Young's Market Company
---
"Look to your right, look to your left. If there isn't a woman in one of those seats, there is more work to be done. Women of the Vine & Spirits is bolstering this movement, giving us an opportunity to invite others to step up in the industry and fill the seat next to you."
Jennifer Engel, Vice President of Sales, Santa Margherita USA
---
"Wine Warehouse is proud to work with Women of the Vine & Spirits. As a family-owned distributor with women in ownership, senior leadership, and developmental roles throughout our organization, Wine Warehouse is committed to providing career opportunities for talented future leaders in our industry. We believe progress is for everyone, and look forward to continued partnership and collaboration."
Greg Akins, President, Chief Operating Officer, Wine Warehouse
---
"We are so proud to be a part of Women of the Vine & Spirits. The progress of this organization has been astounding! Why? Because there is such a need out there for an organization that brings women in the wine and spirits world together — to learn from and provide opportunities to one another. Together, we can all make a real difference in the Alcohol Beverage Industry. As Gold Sponsors, WineShop At Home and its hundreds of wine consultants across the country are excited to play even a small role in helping other women rise, shine and be recognized in our direct to consumer channel of distribution in the world of wine."
Jane Creed, President & CEO WineShop At Home
---
"It's been an honor and a privilege to be a part of Women of the Vine & Spirits. In order to grow, I firmly believe that women in our industry must support one another and the organization's focus on areas like education, advocacy, training and mentorship, are key in building a strong network of female leaders across all fields. Year after year, I have personally seen how the Alliance has taken great strides in advancing and promoting women in our industry, and I look forward to seeing what 2017 will bring."
Victoria MacRae-Samuels, Vice President, Operations, Maker's Mark®
---
"The wine and spirits industry is fast evolving and is an extremely exciting space in which women can and should flourish. The dialogue that Women of the Vine & Spirits is creating is long overdue and is changing the world we women and men live and work in."
Susan Kostrzewa, Executive Editor, Wine Enthusiast Magazine
---
"Being a woman in the wine and spirits business is not just an 'identity.' It's a constant fact of life, especially if you work in the field. Being part of the Alliance, and attending the Symposium, inspires and empowers me to get back out there with fresh energy. If you're not already a member, join us and help transform the future for all women – and men – of the vine and spirits!"
Tammy LaNasa, Director, On-Premise National Accounts, Fetzer Vineyards
---
"Republic National Distributing Company (RNDC) has a strong commitment to the women leaders at our company. Since 2012, over 300 women have attended our professional development program, The RNDC Women's Leadership Forum. Our focus is to improve key leadership attributes which empower women to be on an equal and respective platform with their male counterparts in the business. Best-in-class education on emotional intelligence, conflict resolution, strategic planning, and influence with diplomacy is part of the curriculum to ensure our leaders are prepared for today and tomorrow's industry challenges. Another important skill is networking, an area of opportunity for women in a business environment. The Women of the Vine & Spirits Global Symposium provides an excellent venue for networking. The networking experience provides women leaders a chance to share stories of success and struggle. At RNDC, we believe there is tremendous value in supporting an industry-focused organization that amplifies our commitment to women's professional development and career advancement."
Lorraine Luke, Vice President, Human Resources, Republic National Distributing Company
---
"For organizations to drive long-term systemic change for women we must have the active engagement of male champions. Kudo's to Deborah Brenner for her fore-site and vision of bringing women (and some great men) together at this amazing event. I'm honored to have been chosen to be the opening keynote and help deliver this message."
Jeffery Tobias Halter, President, YWomen
---
"Deborah Brenner, with the faith of the wine and spirits industry behind her, has sparked a revolution with Women of the Vine & Spirits and the Global Symposium. We have the opportunity to continue the passionate dialogue that supports the advancement of women in the wine and spirits industries through networking, mentorship, by fostering leadership groups within companies and organizations, and by inviting all stakeholders to the table to seize and leverage the influence of female executives in alcohol beverage industry."
Cynthia Lohr, Co-Owner, Trade and Brand Advocate, J. Lohr Vineyards & Wines
---
"Women of the Vine and the IWSR share a mission to educate, which is paramount to the growth and empowerment of women in the alcohol beverage industry. The IWSR's focus on research and trends will provide Women of the Vine members with knowledge and tools to drive success within their organizations."
Brandy Rand, President U.S., IWSR
---
"Women of the Vine & Spirits, like no other organization, provides the forum and opportunity for women to connect, collaborate, and learn from one another. The ripple effect the Women of the Vine & Spirits symposium has produced has already made a lasting impact on our industry."
Colleen Brennan, VP, National Accounts On Premise, Rodney Strong Wine Estates
---
"I look forward to this symposium every year as it energizes and reaffirms my commitment to share ideas and fosters great partnerships with the other women in our industry."
Sommer K Walker-CSS, Bacardi National Accounts, Bacardi
---
"The power of a woman is often undervalued until something needs to get done!"
Rebecca Running, General Manager Santo, Infinium
---
"The Women of the Vine & Spirits Conference just keeps getting better each year!"
Dr. Liz Thach, MW, Distinguished Professor of Wine & Management, Sonoma State University
---
"Very excited to share insights and trends on how millennials are influencing Gen X and Baby Boomers. What a great opportunity to connect and collaborate with female leaders in the Alcohol Beverage industry."
Jeff Fromm, President, FutureCast and Partner, Ad Agency Barkley
---