Event Details
Women of the Vine & Spirits and
Maggie Henriquez
present a live webinar
Time & Conflict Management

Thursday, August 31, 2017
10:30 AM PST / 1:30 PM EST
Join Women of the Vine & Spirits and Maggie Henriquez, President & Chief Executive Officer, Krug Maison de Champagne and Women of the Vine & Spirits Advisory Board member, as together, we host a webinar featuring Maggie's Keynote Address "Time & Conflict Management"from the sold-out Women of the Vine & Spirits Global Symposium.
Feel like you are seated next to 700 other women at the Third Annual Women of the Vine & Spirits Global Symposium as you re-live Maggie's now famous Time & Conflict Management keynote. Recorded in high-definition, webinar attendees will receive a link to watch Maggie as she addresses the sold-out Symposium crowd, feeling her energy and performance. We encourage you to watch the presentation ahead of time as during the live webinar Maggie will summarize top points of her presentation, focusing on key takeaways and then open up to an extended Live Q&A.
Free to attend for Women of the Vine & Spirits Members only.
Members will also receive the PowerPoint presentation as well as a list of books recommended by Maggie for continued education and inspiration at completion of webinar.
Once registered on the Women of the Vine & Spirits website, you will receive a link to complete your registration.
We hope you'll join us!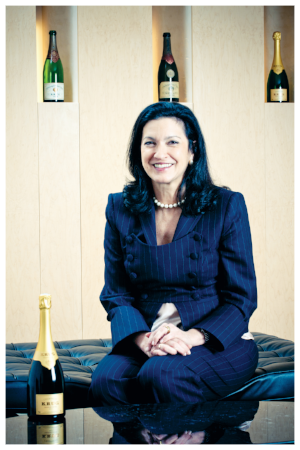 Maggie Henriquez
President & CEO,
Krug Maison de Champagne
Mrs. Henriquez is a professional with 38 years of experience, out of which 26 have been spent as President and/or CEO of multinational or global companies in Venezuela, Mexico, Argentina and now, France.
Mrs. Henriquez, better known as Maggie, is renowned for developing and implementing strategies to manage companies in difficult contexts and circumstances. For
 26 years she contributed to different companies by developing and executing the right strategies to successfully lead the way as president and/ or C.E.O. of companies which produced and distributed wines and spirits in Venezuela, food in Mexico, sparkling and still wines in Argentina and now in the House of Krug, in Reims, France. The House of Krug is at the very top of the Champagne industry – it is the only house that has created only Prestige Champagnes since it was founded in 1843.
Maggie was also president of the Association of Manufacturers in Venezuela, Mexico and actively participated in the transformation of the Argentinean wine industry. In Argentina, she got deeply connected with winegrowing and winemaking during her eight years at the head of Moët Hennessy properties there.
During her experience leading different companies she was also a member of the international executive committees of Seagram, Nabisco, Moët Hennessy Latin America, Caribbean, Canada and Middle East, Moët Hennessy Estates & Wines, and now belongs to the Moët Hennessy International executive committee.
During her stay in Mexico, she was Professor of New Product Development for International Markets and Strategic Alliances at the Universidad Panamericana for post-graduate and/or Master degrees. Maggie has conducted seminars on various topics, which range from Wine, Champagne, Luxury Brand Building, Strategy and Marketing, Facing Crisis, Leadership, and Women's Development.
Among other recognitions, she was appointed "Keeper of the Quaich" by the Scotch Whisky association in 1993; in Argentina in 2008 was appointed among the best five executives of the year during the last 10 years by Fundaciôn Konex; and recently was appointed as the 2013 woman of the year by Drinks International – one of the most important trade media in the UK.
She is a system engineer with an advanced program in Harvard. She has two children
living in Mexico, 35 and 31, she is also a grandmother of a girl and a boy. Maggie loves sports, biking, water skiing, tennis, horseriding, aerobics and spinning. She is fluent in three languages: English, French and Spanish and understands Italian and Portuguese. Maggie is computer skilled, loves wines, gastronomy, traveling, arts, reading, music, opera and a good spa.