Register Now!
Or paste this link in your browser's address bar: https://www.eventbrite.com/e/the-history-of-women-the-cocktail-tickets-50446645274
Event Details
The History of
Women & the Cocktail
Monday, October 15
6:30PM-9:30PM PST
Women of the Vine & Spirit's Corporate Member, Pomp & Whimsy cordially invites you and a guest to a special event hosted by Pomp & Whimsy and The Museum of the American Cocktail.
Come together to honor the pioneering, yet unrecognized women of cocktail history whose home mixing and distilling prowess paved the way for the innovative craftswomen of the cocktail world today. And enjoy some of their recipes, reimagined and remixed by some of SF's leading bartenders today.
Schedule of Events:
Doors will open at 6:30, guests will be greeted with a welcome cocktail and light bites.

Event programming begins at 7pm in the great ballroom where we'll hear from a lively panel of experts.

Cocktail demonstration will take place in the Haas-Lilienthal parlors at 8pm. Guests are invited to explore the parlors and the second floor of the historical house, and perhaps find a few surprises along the way!
Location:
The Haas-Lilienthal House
2007 Franklin Street
San Francisco, CA 94109
*This event is open to registered guests over the age of 21. Walk-ins will not be permitted to attend.
Pomp & Whimsy
Back in the 1800s, Victorian liquor sellers used sugar and other flavorings to make the low quality gins of the time more palatable for their customers. These highly popular "gin cordials" were cheaper, lower proof and easier to drink than the "dry" (unsweetened, undiluted) gin that came straight from the barrels. However, with the invention of the Coffey still, the production of high quality gin eventually became more commercially viable, and by the turn of the century dry gin caught on as the preferred style of spirit.
For Victorian women, who were the chief home distillers and recipe makers at the time, the infusion of additional fruits or botanicals into gin made for a richer sipping spirit, and indeed the base of the very first "cocktail" (i.e. gin, sugar and bitters). With Pomp & Whimsy, we set out to breathe new life into this long forgotten tradition, while simultaneously updating it for a modern palate. Bringing fancy, modernity, and dare we say it, even a touch of femininity, to this stuffy, old world spirit.
It's gin. Reimagined.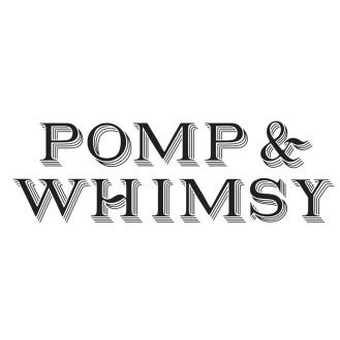 2007 Franklin St, San Francisco, CA 94109, USA