Event Details
Join Women of the Vine & Spirits for a Online Networking Chat: Hosted by WOTVS Director of Corporate Membership & Engagement, Elizabeth Campbell Boyd
Wednesday, February 5
1:00PM PST / 4:00PM EST
Are you looking to build meaningful relationships within the alcohol beverage industry?
Are you looking for more opportunities other than after-work receptions to meet and connect with others in the industry?
Are you looking to make real connections "face-to-face" from the comfort of your home or office?
We at WOTVS know your days are packed with meetings and events, but you still crave that personal connection with others in this industry - you just can't find the time or commit to after-work events to do so.
By joining our Online Networking Chats, you are allowing yourself the opportunity to spend one hour out of your busy day making meaningful connections, sharing knowledge, advice, and encouragement with other WOTVS members. This is your space and your time to network without all the "work"! What we mean is: you don't have to fight traffic to get to a reception at 5:30 pm, you don't have to worry about not meeting anyone, you don't have to worry about your outfit, you don't have to even wear heels…make that shoes!
We welcome you to join our engaging community of like-minded industry professionals as we spend an hour creating connections with WOTVS members from all over the world and across all industry sectors of the alcohol beverage industry. From experience, we know the time spent on these chats will leave you feeling inspired and energized. We can't wait to meet you!
Things to Consider
LinkedIn conducted a survey that revealed 85% of all jobs are filled by networking.
New research in the Harvard Business Review finds that not only do women benefit from having a network of well-connected peers across different groups, women who also have an inner circle of close female contacts are more likely to land executive positions with greater authority and higher pay.
Research from Shawn Achor, author of "The Happiness Advantage", found that social connection is one of the greatest predictors of happiness and reduced stress.
Things to Remember
You have many things to offer. Keep an open mind and really listen to those you meet. You don't know when your expertise, or someone you know may be helpful to someone else. You may have a common connection with someone and by sharing your story, you have the power to inspire others.
Your profile plays an important role. It is essential to thoroughly complete your WOTVS professional profile presence. This is a prerequisite, as anyone in the Directory might try to reach you.
Participate. This is a proactive community. We strive to provide the tools you need to succeed. Join our webinars, live chats and groups. Your voice is vital in this industry! We invite you to collaborate in a space where your voice can be heard and championed by a global network.
Commit. Follow-up with members in our WOTVS community, you can reach out to them through our Directory. To keep connections alive, they must be nurtured.
Any questions, topics you'd like to discuss please e-mail them to info@womenofthevine.com.
Due to this chat being live, it will not be recorded.
Spots are limited! This is YOUR opportunity to network among WOTVS members!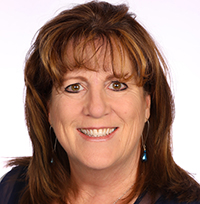 In her role as Director of Corporate Membership and Engagement Elizabeth works with current Corporate Members to ensure they are actively participating in the benefits extended to them. She is adept in evaluating the needs of our members, and the abilities of the organization, to determine best practices and the most successful plan for growth. Elizabeth is also responsible for expanding our global network by engaging new Corporate Members.
An integrity-driven, experienced, professional Project Manager with a background specializing in the successful development and execution of concurrent objectives, Elizabeth has a track record of delivering results in a disciplined and resourceful manner. With the ability to effectively communicate goals, while nurturing a team environment, she is proficient in successfully guiding projects from concept to execution. Her ability to quickly assess a situation and produce valuable resolutions, with an understanding of the potential financial exposure is core to her success.
Elizabeth's career has provided her with a comprehensive background in sales, leadership, negotiation, budget management, resolutions.