Ticket Name
Sale Ends
Price
Quantity
C-Suite Insights: Leading with Flexibility, Empathy and Compassion with Stephanie Gallo, Chief Marketing Officer, E. & J. Gallo Winery
Login or Join to view tickets
Event Details
Join Women of the Vine & Spirits for


our NEW Leadership Series:
"C-Suite Insights"
Leading with Flexibility, Empathy and Compassion
Thursday, July 9
10:00AM PST / 1:00PM EST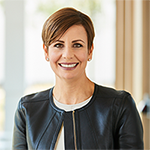 Stephanie Gallo
Chief Marketing Officer,
E. & J. Gallo Winery
Interviewed by Kristina Kelley, CSW
Senior Director Corporate Public Relations, E. & J. Gallo Winery
Leadership is a process of social influence, which maximizes the efforts of others, towards the achievement of a goal. Each of us can be a leader and make a positive difference, whatever our title or position.
This series takes you inside the minds of some of the most respected visionaries, thought leaders and entrepreneurs in the alcohol beverage industry.
These live, one-on-one interviews, with Q&A open to attendees, will provide you with tangible tools on how to lead through uncertain times and inspire you to take action.
Here are some questions to ask yourselves as you lead through a crisis:
Am I defining reality and creating hope in this unprecedented time?
Am I helping my team become the change makers we need so they can be successful in difficult times?
What are the key relationships I need to maintain in order to emerge from the current crisis?
Do our decisions mirror our company values?
Is our organization's culture being maintained through our responses during the crisis?
---
Introducing the First-of-its-Kind List of Female Leaders in the
Alcohol Beverage Industry, Worldwide
The Women of the Vine & Spirits C-Suite honors and recognizes leaders that are change-makers, co-creators and curators
in the alcohol beverage industry.
Visibility of women in traditionally male-dominated roles and industries cannot be underestimated.
These women have earned their place at the top as forward-thinkers, disruptors, innovators and icons using their voice and position
to inspire others to follow in their footsteps.
Qualifying Corporate Members that would like to be included in our C-Suite need to complete this form.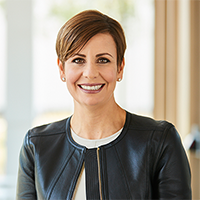 Stephanie Gallo is the Chief Marketing Officer for the E. & J. Gallo Winery. Co-founded by Stephanie's grandfather Ernest and great uncle Julio 84 years ago, Gallo is now the largest family-owned winery in the world, exporting wine and spirits to 110 countries. In her role, Stephanie oversees Consumer and Product Insights, Digital Marketing, Experience Marketing, Media and Public Relations, as well as the global management of all Gallo brands, creative development and agency management, marketing effectiveness and sponsorships.
Stephanie earned her bachelor's degree in government and international studies from the University of Notre Dame and obtained her MBA from Northwestern University's J.L. Kellogg Graduate School of Management. She serves Notre Dame as a Board of Trustee, student mentor and guest speaker. Stephanie is also a Trustee of the Gallo Center for the Arts and the Capital Campaign Chairperson for the Center for Human Services, a local nonprofit that assists youth and families in Stanislaus County.
Stephanie is involved in her community as a regular speaker on women in business, family business and the importance of community giving. She lives in her hometown of Modesto with her husband Chris Tyler and their two children, Amelia and Harrison. As a family, they enjoy traveling, skiing and spending time outdoors.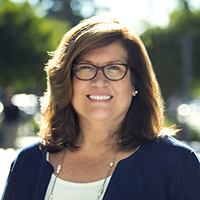 Kristina Kelley grew up exploring the world, living in new cultures and sampling diverse cuisines. Through her 30-plus-year career in the food and beverage industry, she has combined her global outlook and unquenchable curiosity with a wealth of experience that includes sales, marketing, and public relations.Kristina was born in Puerto Rico and spent most of her adolescence traveling to new places with her family. Throughout her experiences, she found that a significant portion of any culture is expressed through food and drink – a discovery that ultimately amplified her desire to learn more about the industry.
After Kristina completed her education at Virginia Commonwealth University, she initially worked in hospitality but soon entered the wine industry. Since then, she has held various roles in distributor and winery sales, as well as brand management throughout the United States. She joined E. & J. Gallo Winery in 1995 where she played an integral role in the creation of the winery's fine wine portfolio and in developing numerous domestic and import brands.
Today, as the Senior Director of Corporate Public Relations and Wine and Spirits Media Relations for the E. & J. Gallo Winery, Kristina oversees multiple facets of Public Relations, Editorial Content, Events and Media. She is responsible for building integrated communications and strategic plans related to the company's initiatives and long-term vision. Her team provides communication leadership and expert guidance to business leaders on a variety of high-profile issues and topics. She also leads the PR strategy for the winery's comprehensive portfolio of wines with a specific focus on Wine and Spirits Media from consumer-accessible brands such as Barefoot and Dark Horse to premium brands like J Vineyards & Winery, Louis M. Martini and Orin Swift. Additionally, her team supports the winery's portfolio of renowned imports including Jermann, Renato Ratti and Allegrini and numerous others from Italy, Spain, France, New Zealand and Argentina.
Kristina is a Certified Specialist of Wine, an Advisory Board Member for Women of the Vine and Spirits, and an active member of the Public Relations Society of America. She lives in Modesto, California with her husband, Mike, and their Weimaraner, Finn. Over the years, Kristina's enthusiasm for new experiences has never faltered – visiting more than 50 countries and sampled scores of cuisines, with more to come.