Event Details
Join Women of the Vine & Spirits for a Live Webinar:
Breaking BEERiers
Tuesday, October 23
1:00PM PST / 4:00PM EST
Lets talk beer! In honor of our month long celebration of women in the beer industry, we are thrilled to present a live webinar dedicated to women beer enthusiasts sharing their stories of how they broke barriers, best practices, tips, and more!

Hosted by:

Grace Weitz
HopCulture and Beers without Beards
Panelists:
Camille Shoemaker
Brewer at Vine Street Pub and Brewery

Ting Su
Co-founder of Eagle Rock Brewery and Eagle Rock Public House

Sarah Howat
Co-Founder, Operations Manager, and Director of All the Things / Mama Bear / Cat Wrangler at Black Project Spontaneous & Wild Ales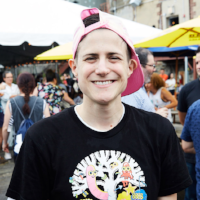 Grace Weitz is an avid craft beer nerd who has always found a way to work with beer. After graduating with a journalism degree from Northwestern University, she attended culinary school. She worked in restaurant management for a couple years while moonlighting as a brand ambassador at 3 Sheeps Brewing Co. on the weekend. She later moved into the beer industry full-time as an account coordinator at 5 Rabbit Cerveceria. Last May, Grace graduated with a Masters degree in the Food Studies program at NYU and now works full-time at Hop Culture. This past August she organized a weeklong festival celebrating the achievements of women in craft beer called Beers With(out) Beards.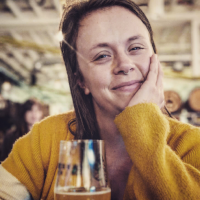 Camille Shoemaker grew up in Denver, Colorado. After receiving her bachelors in Baking and Pastry and Food Service Management at Johnson and Wales, she quickly moved to New York City to pursue her Masters in Food Studies at NYU where she focused her studies on the history and gender dynamics of the beer industry. After a summer farming and brewing in upstate New York, she moved home to Colorado and now works as a brewer at Vine Street Pub and Brewery in Denver.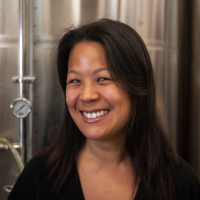 Ting Su co-founder of Eagle Rock Brewery (2009) and Eagle Rock Public House (2014), grew up in a hard-working restaurant family in southwest Florida. Ting is a graduate of Emory University with a B.S. in biology and holds a Doctor of Physical Therapy degree from the University of Southern California, practicing pediatric physical therapy for 10 years before leaving to fully invest her time managing the daily operations for Eagle Rock Brewery and eventually added managing Eagle Rock Public House. Somehow, someway Ting finds time in her demanding schedule to also serve an official judge in the Beer Judge Certification Program (BJCP) and a Pink Boots Society member. In addition, Ting is also involved with a number of civic activities, hosting a successful monthly Women's Beer Forum at the brewery, and consults with various community groups and local businesses to organize craft beer gardens and events throughout the year.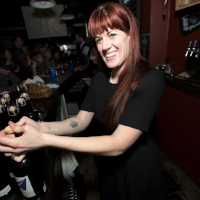 Sarah Howat is the Co-Founder / Operations Manager / Director of All the Things / Mama Bear / Cat Wrangler at Black Project Spontaneous & Wild Ales in Denver, CO. She always had a passion for business and dedicated her undergraduate studies to Marketing, followed by an (almost) graduate degree in Counseling. Black Project was started in 2014 under the name Former Future Brewing Company, but the company pivoted in 2016 when they shut down for a week and reopened as Black Project Spontaneous & Wild Ales. The brewery focuses on 100% spontaneously fermented beer and has won medals for "Wild Ale" at the 2014 (Bronze), 2015 (Bronze), and 2017 (Silver) Great American Beer Festival.