Event Details
Join us for a Women of the Vine & Spirits Brand Ambassador Regional Event!
Hosted by Vegan Wine's Frances Gonzalez and Sunny Gandara
Gardiner, NY, USA
6:00pm- 9:00pm
Join two of our Women of the Vine & Spirit's Brand Ambassadors for a fun and educational evening hosted by Vegan Wines Owner & Founder, Frances Gonzalez, and wine consultant Sunny Gandara, DWS, CWE , in the beautiful town of Gardiner, NY. Get a chance to meet and network with your fellow Women of the Vine & Spirits members, learn more about Women of the Vine & Spirits and how you can get involved in your area, as well as taste some vegan wines from around the world, and local spirits from the Hudson Valley.
A brief overview and presentation will be held on the growing trend of vegan wines and how to know if wines are truly vegan, which will hopefully lead to interesting discussion and exchanges.
Hors d'oeuvres will be served based on local and seasonal plant-based foods.
For location details contact info@veganwines.com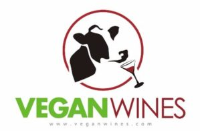 Associate Corporate Member
Vegan Wines visits wineries across the USA and the world to find the best-tasting vegan wine for our club. We tour vineyards and winemaking facilities and talk with owners and winemakers about what exactly goes into their wines. We ask the questions necessary to ensure that any wines we offer are completely free of animal products every step of the way. And of course, we taste the wine! We're the first online vegan wine club in the USA. We go directly to the source to verify that our wine is vegan from the soil to the fining and filtering processes. Our wines are guaranteed vegan.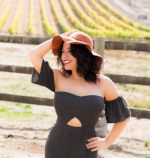 Frances Gonzalez, a long-time vegan and wine lover, can still remember the day the day she told her Puerto Rican family she was never eating meat again. But her journey to becoming vegan didn't happen overnight - it's been a lifelong evolution.
During a wine tasting tour in France, her guide mentioned the words "egg whites" and her ears perked up. It was then that she learned many animal products are frequently involved in the winemaking process, making the end product unsuitable for vegans. When Frances discovered there were vegan wine club options in Europe but none in the USA, the idea for Vegan Wines was born!
Having been routinely frustrated by trying to order vegan wines in restaurants and locate animal-friendly bottles in wine shops, she now seeks to spread awareness and make buying vegan wines easier. Today she travels to wineries to ensure their winemaking methods are completely free from animal products before asking them to partner with Vegan Wines.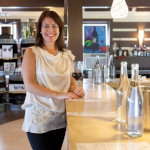 Sunny Gandara, DWS, CWE is a vegan food, wine and lifestyle consultant with 20 years of experience in the food, wine and entertainment industry. She has worked across all facets of the wine and spirits business as a wine buyer, sales consultant for importers and distributors, business owner, wine educator and brand ambassador.
Sunny holds her WSET Diploma and is a Certified Wine Educator through the Society of Wine Educators. She is a certified Burgundy Wine Educator through the BIVB, and has additional certifications through the Wines of Spain, Napa Valley Vintners and Center of Wine Origins among others.
Sunny is a professionally trained chef and ran her own catering company, Fork and Glass, for several years before founding her own vegan food, wine and consulting business. She now works with clients virtually and in -person worldwide, helping her clients transition to a vegan diet, particularly helping them create flavorful meals that pleases both meat eaters and vegans alike. Sunny is the author of the popular Norwegian food blog, Arctic Grub, where she writes about the history and culture around food from Norway and Scandinavia