Event Details
Women of the Vine & Spirits
presents a live webinar
World Famous: How to Create a Kick-Ass Brand
Wednesday, April 11, 2018
1:00 PM PST / 4:00 PM EST
How to attract more opportunity in your business (and personal) life...

What is it that makes that one certain individual a sales superstar? Why do we seek out that one certain champion server at our favorite restaurant? What steps can you take to gain a more powerful presence in your market without working every hour under the sun or loosing balance in your life? Answer: stand apart from all others with your own kickass personal Brand!

As David often says, "without a brand you are simply a vendor… and vending is for machines!!"

Join our webinar and discover what makes you more unique and valuable to your audience and let David Tyreman show you how to harness that knowledge to attract the opportunity you desire.
Free to attend for Women of the Vine & Spirits Members.

Once registered on the Women of the Vine & Spirits website, you will receive a link to complete your registration.
We hope you'll join us. Register now!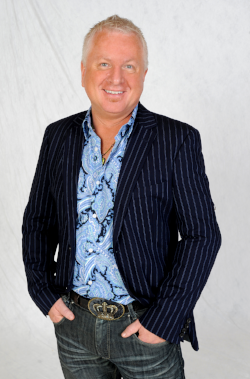 WARNING: Kickass keynote speaker and award-winning author David Tyreman will use humor, wit and charm to demonstrate that you're actually NOT in the business YOU THOUGHT you were. So listen at your own peril, or end up with a brand that's absolutely CRUSHING IT!
Seriously, David's uncanny, unorthodox and inspirational approach for helping entrepreneurial "start ups", personal brands and Fortune 500's crack their brand DNA has made him one of the most sought-after keynote speakers in the nation today. Author of 'World Famous – How to Create a Kick-Ass Brand,' and founder of WorldFamousCompany.com, David has been described as the "Rosetta Stone for brand building."
His own entrepreneurial itch surfaced in 1987 while on holiday in the U.S. The energetic Englishman loved it here so much that he vowed to return with an idea that would take America by storm. His concept? To sell English antiques the way people peddled Tupperware, by hosting parties. "People drank our wine, and ate the cheese, but wouldn't touch our pricey antiques."
Down to their last $20, David and his partner had one more Antique Party scheduled at his aunt Beryl's home in Arcadia, California. "Luckily, she had a neighbor who was in the mood for showing off a bit, and he purchased our entire $5,000 inventory!" he said. "I was doing back flips and cartwheels… we didn't sleep all night."
Seven years later, they had totally morphed into a Visual Branding & Merchandising juggernaut called Propaganda, which packaged carefully selected vintage and modern props (from mountain bikes and snow ski's to old typewriters, suitcases and alike) as in-store, story-telling props for retail clients such as Polo Ralph Lauren, Nike, Banana Republic and others.

The company went on to purchase a 27,000 square-foot warehouse in San Francisco, which was the largest live/work lofted warehouse in the city. They also scored tons of free press for their whacky, but memorable marketing & branding methods. After topping $20 million, David sold the business to his partner and launched the World Famous Company LLC now based out of Las Vegas in 2000 where he's been joyfully creating kickass brands for his clients ever since.