Event Details
Join Women of the Vine & Spirits with Special Guest, Susan Freeman, for a Live Webinar:
Talking While Female: Understanding Gender-based Communication Style Differences
Wednesday, January 16, 2019
1:00pm PST / 4:00pm EST
From the classroom to the boardroom we engage in the same cultural norms throughout our lives:
Boys -- and later men -- learn to compete for status while creating social connections; girls -- and later women -- learn to compete for social connections while achieving status.
Boys -- and later men -- grow up in hierarchies; girls -- and later women -- avoid claims of leadership and express ideas as suggestions to benefit the group.
Boys -- and later men -- use bluster to downplay their doubts about their competence; girls -- and later women -- downplay their knowledge and ability to gain acceptance.
Tune into our Live Webinar with Susan Freeman, Senior VP, Marketing & Business Development at Freeman Means Business who will be discussing the differences of gender-based communication styles.
Don't miss out! Will not be available for on-demand viewing
There is a two part registration process.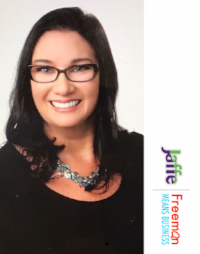 Susan Freeman's goal is to help women in business communicate effectively with the world -- and to help men communicate effectively with women in business! Susan's training draws on her significant experiences as a sales executive in the financial services industry, her marketing and business development training in the legal industry, and her studies in Communication.
Susan's passion for helping women succeed has previously surfaced as she co-founded "Women's Business Connection" in Massachusetts and "Girl Power" with over 6,000 followers. She also presented for the "Girls in Politics" initiative, a program created to introduce girls to politics, policy, and the work of the three branches of federal government. Susan is also a Lean In Circle Leader, as well as a member of the Lean In Leaders Circle. Her enthusiasm for the benefits of building meaningful relationships has made her a great connector. She has over 15,000 followers on social media. She excels at building—and teaching others how to build—meaningful relationships.
She helps professionals communicate effectively in order to develop relationships that result in new business. She trains professionals to use client-centric insights to assess needs and identify solutions to meet strategic goals. Her clients benefit from her knowledge of communication theories, her research for her thesis, "Develop or Die: Transitioning from a Practice of Law to a Business of Law," and her market research expertise in the litigation arena.
Susan has worked with some of the most prestigious law firms and financial services institutions in the world. She was graduated with honors from Hawaii Pacific University with a Master of Arts degree in Communication and she was graduated from Louisiana State University with a Bachelor of Arts degree in both Political Science and Journalism, with a minor in Marketing. She also studied Marketing at Northeastern University in Boston. Susan has lived in Louisiana, Switzerland, Italy, Massachusetts, Hawaii, and now, California. Throughout her sojourns, she has developed a large, interconnected circle. Susan lives in the Bay Area with her husband, Mike Futrell and their son, James.
To excel in your own initiatives, let Susan share her Communication and Business Development best practices, insights, enthusiasm, connections, & skills with you!