Event Details
Join Women of the Vine & Spirits and special guest, Dr. Sarah Banks for a live webinar:
How Deep Learning About Wine Shapes the Brain, and Why That Matters

August 16, 2018
10:00 a.m. PST / 1:00 p.m. EST

Hosted by: Dr. Sarah Banks, neuropsychologist with interest in neurodegenerative disorders such as Alzheimer's disease.
We once thought that once you reached early adulthood, your brain stopped growing and started its decline. We've recently learned that rich experiences continue to shape our brains into adulthood. Memory, and the parts of the brain that control it are especially vulnerable to aging. Smell is a unique sense in that the parts of the brain responsible for decoding smell are linked directly with the memory centers, so keeping the smell centers of the brain healthy into aging may be particularly important.
We completed a study on the brains of Master sommeliers, assessing how their brains are shaped, and also how they function while making decisions about wine and wine-like smells. In the talk I will explain what we found, and how it relates to disorders of aging such as Alzheimer's and Parkinson's disease.
Takeaways:
Why is smell and smell-memory important to diseases of aging?
How does in depth learning about wine shape the structure of the brain
How does brain connectivity differ on sommeliers?
Recorded webinar will be available for members only.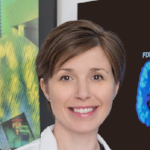 Dr. Sarah Banks is a neuropsychologist with interest in neurodegenerative disorders such as Alzheimer's disease. She uses cognitive tests and Neuroimaging techniques such as MRI to study the brain in healthy and diseased states. In addition to wanting to understand what goes wrong with the brain, she is keen to learn what happens to the brains of people with exceptional memory and smell, hence her interest in sommeliers. Until very recently she was the Head of Neuropsychology at the Cleveland Clinic Lou Ruvo Center for Brain Health in Las Vegas. She will shortly be starting a new position at University of California, San Diego. In the meantime she is learning rather unsuccessfully to surf.